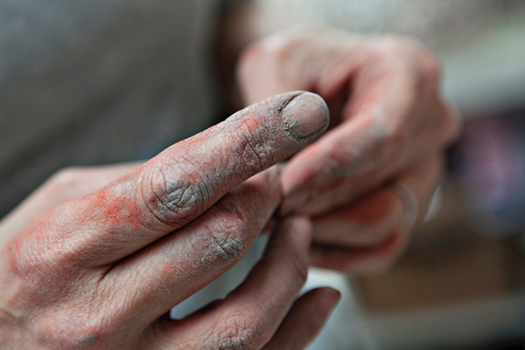 Photo by Ty Cole
Perspectives
Across the pond: Angela A'Court PS UK
Art enthusiast and friend Suzanne Schaaff introduced me to Angela A'Court's work in 2007. When Suzanne first said pastel artist, I took pause, having preconceived notions that the medium of pastel was for traditionalists. But Angela's soft pastels are anything but conservative. Using an array of color to rival a Pantone book, Angela builds layer upon layer to create still life scenes and figure works with a surprising use of space and an innovative take on how an empty vase or a ceramic cup can appear. Milton Avery and Stuart Davis come to mind.
Placed in seemingly random fashion, and somewhat off kilter or skewed, Angela's compositions are in fact consummately balanced and harmonious. She has a unique way of placing objects on a table. I am often struck by the emotional impact Angela's artwork can have on me - an empty vessel with three roses can reset my thinking about objects and their import in our lives. We sense a human presence when there is none. By lovingly depicting objects such as a chair, a table, a cup, she shows us to revere simple lines in space, drawn with rich saturated color.
Susan Eley. SEFA New York
HIGHGATE CONTEMPORARY ART: ANGELA A'COURT PS UK
Artist Angela A'Court has a innovative approach and modern sensibility to pastel. She embraces a non traditional application and is a strong advocate for soft pastel to be considered as a modern medium. With a bold, contemporary style of strong graphic shape, contrasts and edges, she describes everyday objects with an economy of line and deceptively simple forms, such as a nodding flower head, the back of a chair, or a favorite pot.
The lack of overlap and the emphasis on familiar shapes allows A'Court to create a positive and negative effect between spaces; she sees things in abstract, using the narrative of line to express her interaction with the subject. A'Court isolates her objects from one another, emphasizing their individuality and creating a comfortable tension in her work.
A'Court's soft pastels of intimate interiors are subtle, elegant and minimalist with a play between strength and fragility. She is equally at ease delineating a moment of curiosity between her dogs, the architecture of a plant or the placement of an empty glass.
Originally form London, Angela A'Court now lives and works in New York City. After graduating from Goldsmiths College she worked in an architectural practice before becoming a full-time artist 16 years ago. She was elected to the UK Pastel Society in 2009 and exhibits regularly in the USA and UK.
Laurie MacLaren and Diana Lanham
Highgate Contemporary Gallery, London UK
ARTIST PROFILE: ANGELA A'COURT PS UK
Originally from London, A'Court now lives and works in New York. She studied at Goldsmiths in London, and Parsons, The New School for Design in New York going a degree in fine art textiles. After 15 years as a successful interior designer, with work featured in magazines such as Homes and Gardens and the Sunday Times, she made a return to fine art. Elected to the UK's Pastel Society in 2009 she now exhibits in the US and UK.
A'Court's subject matter is still life. She draws first from observation, choosing simple domestic objects - a mug, a chair or flowers in a vase. Once observed, these elements are abstracted, reworked and rearranged and refined. Colors are heightened, juxtaposed and overlaid until they vibrate.
Objects are also chosen for their meaning. A'Court explains, 'It is the overlooked aspects of everyday life that interest me - the beauty of everyday ordinariness and the precarious nature of what happens day to day.' For her, these still lives are 'the remnants of human presence' and through these objects we are invited to reflect upon the people who have touched and placed them.
A'Court's working process is an explorative, intuitive mix of several disciplines: pastel, print, paint and collage. For example, she will try out ideas from her sketchbook by drawing directly on to a silk screen in pastel and then printing from it. 'I love the printing process and it's a good way to get into the flow of experimenting with new ideas. There's an alchemy of unpredictability.'
Pastel is chosen because of its directness, but also because its softness allows creativity - there is a physicality to working in pastel which involves energy. And because there is no waiting for it to dry, there is a direct connection; she can make a mark and work into it straight away, adding, layering and scratching back into the surface.
Above all, A'Court values being able to work with intense, vibrant color. It is that, that makes her a real advocate for the medium, encouraging others to experiment and use it in new ways.
'With pastel, I am holding a stick of pure pigment in my hand. There is no intermediating catalyst of a paintbrush or pen - just color that is applied directly to the work surface.'
Kate Wilson RA
Essay from drawing and painting
Thames & Hudson